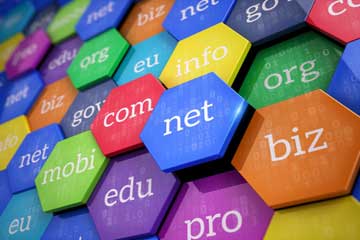 Most popular domain extensions
If you do not already have a domain and want to register, it is important to choose the appropriate domain name and extension. On this page we will give you some tips and advice on how to choose a domain well.
The domain is your Internet address, under which your partners, customers and friends will find you. Domain consists of name (example: web-hosting) and ending domain extension (example: com). Choosing a domain name is up to you. You can choose any domain name that is not registered or reserved. Ideal is to choose a name that will accompany you for a long time. You should therefore pay close attention to the choice. It is advisable to find a free name that best describes your services or intentions.
A domain extension, also a top level domain (TLD), terminates the domain name. The domain name and the extension are inseparable and the name without the extension has no meaning. You can choose from dozens of different extensions, all of which we have in our offer. The most common domain in internet is .com domain.
Top 10 global domain name extension list
COM: 82.01 million.
DE (Germany): 13.05 million.
CN (China): 12.55 million.
NET: 12.42 million.
UK (United Kingdom): 7.83 million.
ORG: 7.79 million.
INFO: 5.24 million.
NL (Netherlands): 3.5 million.
There are also Generic Top Level Domains (GTLDs) that do not fall under any state. Typically com (commercial), net (network), org (organization), gov (goverment), etc. Domain prices and registration rules can vary considerably under different endings. Of course there are also other countries extensions such as .us (United States), .at (Austria), .de (Germany).